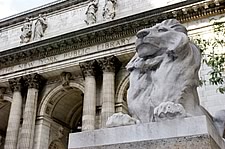 New York Public Library

Your Assurance
Jaisan Recovery Corporation works strictly on a contingency basis. Our fee is payable only when the heirs inherit their share. At no time does the company request any payment from a client for any reason prior to the conclusion of the matter. All out-of-pocket expenses incurred by Jaisan in the search for heirs and accumulation of documentation are borne by the company.
Confidentiality and Discretion
Client confidentiality is important to us. Research is handled with discretion and awareness of the concerns of all involved. Often families are joyfully reunited. Those who prefer privacy are never in jeopardy of losing it. Occasionally, we are able to provide heirs with genealogical charts that delineate their family trees, and copies of documents such as ships' passenger lists, and birth, death, and marriage certificates.